Ray Lema NZIMBU (DRC/CG/FR/BR)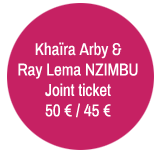 Composer, pianist and singer Ray Lema, who was born in the Congo in 1946 and has become the father figure of modern Central African music, will be presenting his new acoustic project NZIMBU at this year's Etnosoi! Three generations of musicians, three strong singers and three voices which complement each other when they meet the rich musical tradition of the Congo, smoothly combine a whole range of influences including soul and jazz. Lema began his musical studies on piano and organ, but student life in Kinshasa made him choose the guitar as his instrument. Lema played guitar with Gerard Gazembe's group and, a few years later, he was playing Congolese music with groups put together by legendary greats Tabu Ley Rochereau and Joseph 'Le Grand Kalle' Kabasele. Work as musical director of the Zaire national ballet, which began in the mid-70s, gave Lema the chance to become thoroughly familiar with traditional music. This left a deep and enduring mark on Ray Lema's musical identity and he is returning to these roots now with NZIMBU – after carving out an international career in between, especially in the fields of world music and jazz.

Fredy Massamba, who is thirty years younger than Lema, has one foot firmly planted in African culture and the other in hip-hop and R&B. Ballou Canta, on the other hand, is known as an experienced soukous musician. The trio's harmonic sound is made up of a soft timbre accompanied by Lema's piano and Brazilian Rodrigo Viana's guitar which now and then flirts with maybe just a hint of country music.
Ray Lema - vocals, piano, guitar
Ballou Canta - vocals
Fredy Massamba - vocals
Rodrigo Viana - guitar
There will be no interval in this concert.